Manchester Evening News Feature
26/09/2018 | Chilly Powder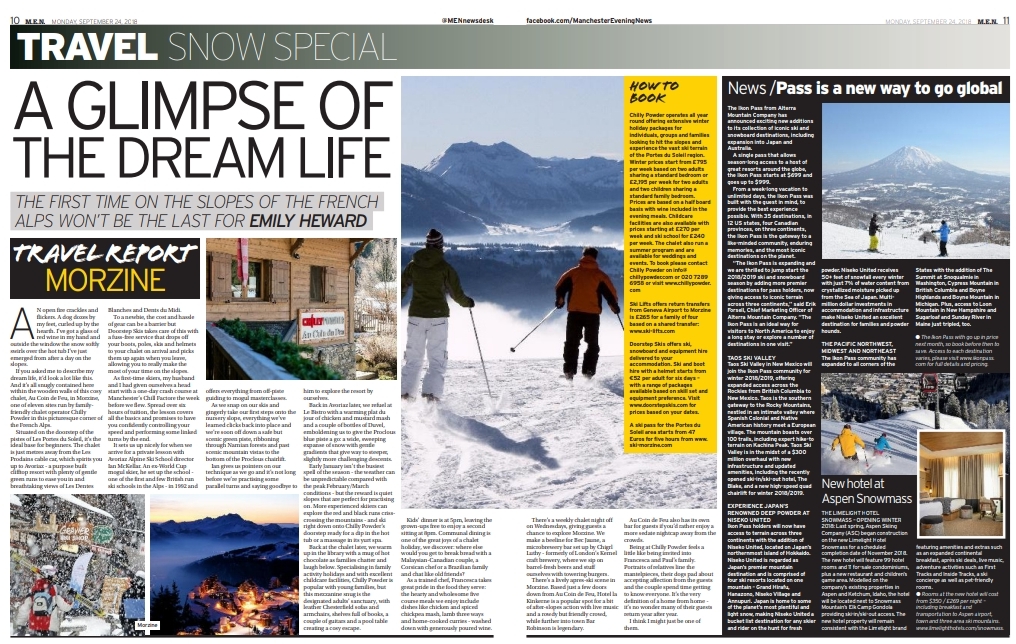 A glimpse of the dream life
The first time on the slopes of the French Alps won't be the last for Emily Heward
An open fire crackles and flickers. A dog dozes by my feet, curled up by the hearth. I've got a glass of red wine in my hand and outside the window the snow softly swirls over the hot tub I've just emerged from after a day on the slopes.
If you asked me to describe my dream life, it'd look a lot like this.
And it's all snugly contained here within the wooden walls of this cosy chalet, Au Coin de Feu, in Morzine, one of eleven sites run by family friendly chalet operator Chilly Powder in this picturesque corner of he French Alps.
Situated on the doorstep of the pistes of Les Portes du Soleil, it's the ideal base for beginners. The chalet is just metres away from the Les Prodains cable car, which spirits you up to Avoriaz - a purpose built clifftop resort with plenty of gentle green runs to ease you in and breathtaking views of Les Dentes Blanches and Dents du Midi.
To a newbie, the cost and hassle of gear can be a barrier but Doorstep Skis takes care of this with a fuss-free service that drops off your boots, poles, skis and helmets to your chalet on arrival and picks them up again when you leave, allowing you to really make the most of your time on the slopes.
As first-time skiers, my husband and I had given ourselves a head start with a one-day crash course at Manchester's Chill Factore the week before we flew. Spread over six hours of tuition, the lesson covers all the basics and promises to have you confidently controlling your speed and performing some linked turns by the end.
It sets us up nicely for when we arrive for a private lesson with Avoriaz Alpine Ski School director Ian McKellar. An ex-World Cup mogul skier, he set up the school one of the first and few British run ski schools in the Alps - in 1992 and offers everything from off-piste guiding to mogul masterclasses.
As we snap on our skis and gingerly take our first steps onto the nursery slope, everything we've learned clicks back into place and we're soon off down a safe but scenic green piste, ribboning through Narnian forests and past scenic mountain vistas to the bottom of the Proclous chairlift.
Ian gives us pointers on our technique as we go and it's not long before we're practising some parallel turns and saying goodbye to him to explore the resort by ourselves.
Back in Avoriaz later, we refuel at Le Bistro with a warming plat du jour of chicken and mustard mash and a couple of bottles of Duvel, emboldening us to give the Proclous blue piste a go: a wide, sweeping expanse of snow with gentle gradients that give way to steeper, slightly more challenging descents.
Early January isn't the busiest spell of the season - the weather can be unpredictable compared with the peak February/March conditions - but the reward is quiet slopes that are perfect for practising on. More experienced skiers can explore the red and black runs crisscrossing the mountains - and ski right down onto Chilly Powder's doorstep ready for a dip in the hot tub or a massage in its yurt spa.
Back at the chalet later, we warm up in the library with a mug of hot chocolate as families chatter and laugh below. Specialising in family activity holidays and with excellent childcare facilities, Chilly Powder is popular with young families, but this mezzanine snug is the designated adults' sanctuary, with leather Chesterfield sofas and armchairs, shelves full of books, a couple of guitars and a pool table creating a cosy escape.
Kids' dinner is at 5pm, leaving the grown-ups free to enjoy a second sitting at 8pm. Communal dining is one of the great joys of a chalet holiday, we discover: where else would you get to break bread with a Malaysian-Canadian couple, a Corsican chef or a Brazilian family and chat like old friends?
As a trained chef, Francesca takes great pride in the food they serve: the hearty and wholesome five course meals we enjoy include dishes like chicken and spiced chickpea mash, lamb three ways and home-cooked curries - washed down with generously poured wine.
There's a weekly chalet night off on Wednesdays, giving guests a chance to explore Morzine. We make a beeline for Bec Jaune, a microbrewery bar set up by Chigrl Luthy - formerly of London's Kernel craft brewery, where we sip on barrel-fresh beers and stuff ourselves with towering burgers.
There's a lively apres-ski scene in Morzine. Based just a few doors down from Au Coin de Feu, Hotel la Kinkerne is a popular spot for a bit of after-slopes action with live music and a rowdy but friendly crowd, while further into town Bar Robinson is legendary.
Au Coin de Feu also has its own bar for guests if you'd rather enjoy a more sedate nightcap away from the crowds.
Being at Chilly Powder feels a little like being invited into Francesca and Paul's family. Portraits of relatives line the mantelpieces, their dogs pad about accepting affection from the guests and the couple spend time getting to know everyone. It's the very definition of a home from home it's no wonder many of their guests return year after year. I think I might just be one of them.
How to Book
Chilly Powder operates all year round offering extensive winter holiday packages for individuals, groups and families looking to hit the slopes and experience the vast ski terrain of the Portes du Soleil region. Winter prices start from £795 per week based on two adults sharing a standard bedroom or £2,195 per week for two adults and two children sharing a standard family bedroom. Prices are based on a half board basis with wine included in the evening meals. Childcare facilities are also available with prices starting at £270 per week and ski school for £240 per week. The chalet also run a summer program and are available for weddings and events. To book please contact Chilly Powder on info@chillypowder.com or 020 7289 6958 or visit www.chillypowder.com
Ski Lifts offers return transfers from Geneva Airport to Morzine is £265 for a family of four based on a shared transfer:
www.ski-lifts.com
Doorstep Skis offers ski, snowboard and equipment hire delivered to your accommodation. Ski and boot hire with a helmet starts from €52 per adult for six days – with a range of packages available based on skill set and equipment preference. Visit www.doorstepskis.com for prices based on your dates.
A ski pass for the Portes du Soleil area starts from 47 Euros for five hours from