16/11/2018 | Chilly Powder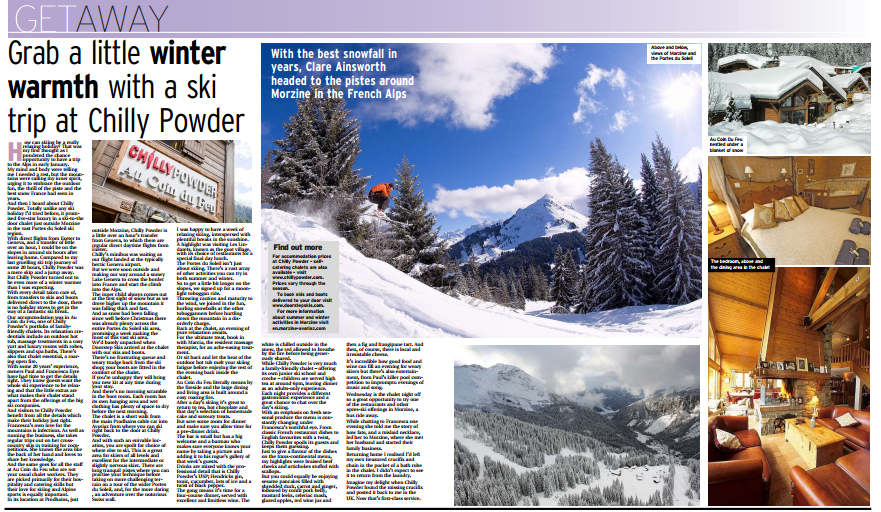 Grab a little winter warmth with a ski trip at Chilly Powder
With the best snowfall in years, Clare Ainsworth headed to the pistes around Morzine in the French Alps
How can skiing be a relaxing holiday? That was my first thought as I pondered the chance opportunity to have a trip to the Alps in early January.
My mind and body were telling me I needed a rest, but the mountains were calling my inner spirit, urging it to embrace the outdoor fun, the thrill of the piste and the best snow France had seen in years.
And then I heard about Chilly Powder. Totally unlike any ski holiday I'd tried before, it promised five-star luxury in a ski-to-the door chalet just outside Morzine in the vast Portes du Soleil ski
region.
With direct flights from Exeter to Geneva, and a transfer of little over an hour, I could be on the slopes in around six hours after leaving home. Compared to my last gruelling ski trip journey of some 20 hours, Chilly Powder was a mere skip and a jump away. But Chilly Powder turned out to be even more of a winter warmer than I was expecting.
With every detail taken care of, from transfers to skis and boots delivered direct to the door, there is no holiday stress to get in the way of a fantastic ski break.
Our accommodation was in Au Coin du Feu, one of Chilly Powder's portfolio of family friendly chalets. Its relaxation credentials include an outdoor hot tub, massage treatments in a cosy yurt and luxury rooms with robes, slippers and spa baths. There's also that chalet essential, a roaring open fire.
With some 20 years' experience, owners Paul and Francesca Eyre have had time to get the details right. They know guests want the whole ski experience to be relaxing and that the little extras are what makes their chalet stand apart from the offerings of the big ski companies.
And visitors to Chilly Powder benefit from all the details which make their holiday just right.
Francesca's own love for the mountains is infectious. As well as running the business, she takes regular trips out on her crosscountry skis in training for competitions. She knows the area like the back of her hand and loves to share her knowledge. And the same goes for all the staff at Au Coin du Feu who are not your usual chalet workers. They are picked primarily for their hospitality and catering skills but their love for skiing and Alpine sports is equally important.
In its location at Prodhains, just outside Morzine, Chilly Powder is a little over an hour's transfer from Geneva, to which there are regular direct daytime flights from Exeter.
Chilly's minibus was waiting as our flight landed at the typically hectic Geneva airport. But we were soon outside and making our way around a snowy Lake Geneva to cross the border into France and start the climb into the Alps.
The inner child always comes out at the first sight of snow but as we drove higher up the mountain it was falling thick and fast.
And as snow had been falling since well before Christmas there was already plenty across the entire Portes du Soleil ski area, promising a week making the most of this vast ski area.
We'd barely unpacked when Doorstep Skis arrived at the chalet with our skis and boots. There's no frustrating queue and weary trudge back from the ski shop; your boots are fitted in the comfort of the chalet. If you're unhappy they will bring you new kit at any time during your stay. And there's no morning scramble in the boot room. Each room has its own hanging area and wet clothing has plenty of space to dry before the next morning.
The chalet is a short walk from the main Prodhains cable car into Avoriaz from where you can ski right back to the door at Chilly Powder.
And with such an enivable location, you are spoilt for choice of where else to ski. This is a great area for skiers of all levels and excellent for the intermediate or slightly nervous skier. There are long tranquil pistes where you can practise your technique before taking on more challenging terrain on a tour of the wider Portes du Soleil, and, for the more daring, an adventure over the notorious Swiss wall.
I was happy to have a week of relaxing skiing, interspersed with plentiful breaks in the sunshine.
A highlight was visiting Les Lindarets, known as the goat village, with its choice of restaurants for a special final day lunch.
The Portes du Soleil isn't just about skiing. There's a vast array of other activities you can try in both summer and winter.
So to get a little bit longer on the slopes, we signed up for a moonlight toboggan ride. Throwing caution and maturity to the wind, we joined in the fun, hurling snowballs at the other tobogganners before hurtling down the mountain in a disorderly charge.
Back at the chalet, an evening of pure relaxation awaits.
For the ultimate treat, book in with Marcia, the resident massage therapist, for an ache-easing treatment.
Or sit back and let the heat of the outdoor hot tub melt your skiing fatigue before enjoying the rest of the evening back inside the chalet.
Au Coin du Feu literally means by the fireside and the large dining and living area is built around a cosy roaring fire.
After a day's skiing it's great to return to tea, hot chocolate and that day's selection of homemade cake and savoury treats.
But save some room for dinner and make sure you allow time for a pre-dinner drink.
The bar is small but has a big welcome and a barman who makes sure everyone knows your name by taking a picture and adding it to his rogue's gallery of that week's guests.
Drinks are mixed with the professional detail that is Chilly Powder's USP; Hendricks gin, tonic, cucumber, lots of ice and a twist of black pepper.
The gong means it's time for a four-course dinner, served with excellent and limitless wine. The white is chilled outside in the snow, the red allowed to breathe by the fire before being generously shared.
While Chilly Powder is very much a family-friendly chalet – offering its own junior ski school and creche – children are served high tea at around 6pm, leaving dinner as an adults-only experience.
Each night provides a different gastronomic experience and a great chance to chat over the day's skiing.
With an emphasis on fresh seasonal produce the menu is constantly changing under Francesca's watchful eye. From classic French restaurant dishes to English favourites with a twist, Chilly Powder spoils its guests and keeps them guessing.
Just to give a flavour of the dishes on the trans-continental menu, my highlights were braised beef cheeks and artichokes stuffed with scallops.
But you could equally be enjoying sesame pancakes filled with shredded duck, carrot and ginger, followed by confit pork belly, mustard leeks, celeriac mash, glazed apples, red wine jus and then a fig and frangipane tart.
And then, of course, there is local and irresistable cheese. It's incredible how good food and wine can fill an evening for weary skiers but there's also entertainment, from Paul's killer pool competition to impromptu evenings of music and song.
Wednesday is the chalet night off so a great opportunity to try one of the restaurants and other apres-ski offerings in Morzine, a bus ride away.
While chatting to Francesca one evening she told me the story of how fate, and a mislaid necklace, led her to Morzine, where she met her husband and started their family business.
Returning home I realised I'd left my own treasured crucifix and chain in the pocket of a bath robe in the chalet. I didn't expect to see it to return from the laundry.
Imagine my delight when Chilly Powder found the missing crucifix and posted it back to me in the UK. Now that's first-class service.
Find out more
For accommodation prices at Chilly Powder – self catering chalets are also available – visit www.chillypowder.com
Prices vary through the season.
To book skis and boots delivered to your door visit www.doorstepskis.com
For more information about summer and winter activities in Morzine visit www.morzine-avoriaz.com