Sunday People Press Coverage
28/10/2018 | Chilly Powder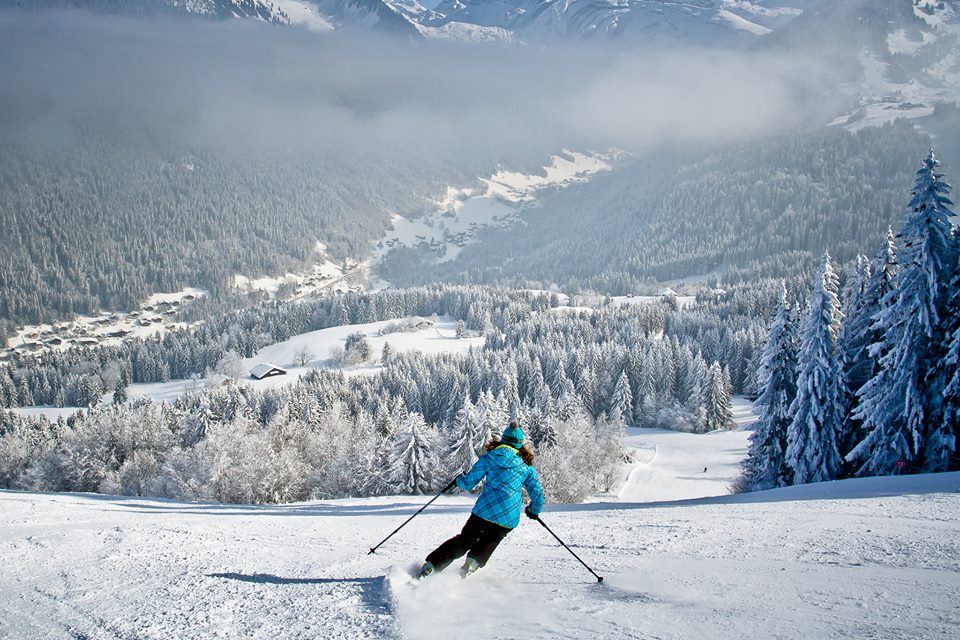 Ski resort where you can really go over the top
Wall's ice scream
"Get on with it" urges my brother Alex as I edge slowly towards the icy precipice known ominously as the Swiss Wall.
The slope stretching away below me is so terrifyingly steep that I can't see the edge without passing the point of no return.
Instead I step back, walk away – and head for a chairlift down.
When I see the look of regret on Alex's face I know I made the right decision.
Officially known as Le Pas de Chavanette, The Swiss Wall is one of 650km of pistes in the Portes du Soleil which covers 12 Alpine resorts across France and Switzerland.
Our home from home for the week is the family-run Chilly Powder, only a few miles up the road from Morzine and close to the main lift into Avoriaz.
Chilly Powder's flagship chalet hotel Au Coin Du Feu, is a stunning alpine lodge built around a fireplace with floor to ceiling windows.
It has a comfortable home-from-home atmosphere thanks to owners Paul and Francesca Eyre, who founded Chilly Powder in 1995.
Walls are adorned with family photos of their three children and hand-written letters of thanks and paintings from guests of their chalet creche.
With conditions so good it was not hard to be ready for the first lift almost every day.
And with Doorstep Skis delivering our equipment to the chalet, we were on the slopes in no time.
The Portes du Soleil is so vast that even a capable skier would be hard pushed to cover the 280 slopes in a week. My brother and I made the best of it, shooting down slopes in the French resort of Les Gets to Champery in Switzerland before skiing back to our chalet door.
Getting around was made easy by the Chilly Powder app, which has piste maps, GPS tracking and resort information.
But our best runs came during morning lessons with ski instructor Laurence Calvet, founder of Avoriaz Alpine Ski School.
Laurence has been on the slopes all his life. His engineer dad father masterminded the lift network, so he knows it like the back of his hand. And he was easy to spot in his green jacket and shorts, which earn him his Green Yeti nickname.
By the time Laurence finished with us our technique had improved – and Alex no longer skied like a constipated spider.
After exhausting ourselves on the slopes there was time to regain the feeling in our fingers and unwind before dinner in front of the roaring fire in Au Coin Du Feu, which translates as by the fireside.
There is an outdoor hot tub and sauna to soothe ski boot-sore muscles. The lovely Marica offers massages at her spa in a Mongolian yurt in the back garden.
Nothing will relax you more before a delicious five-course feast created by Cordon Bleu chef Francesca that follows.
Aside from their five star service, the Chilly Powder staff are also brilliant at helping you organise other activities – from ice diving and snow shoes hikes to husky sledding and parapenting. I opted for skijoring – being pulled on skis by a horse – to reset my aching legs and exhaust my arms instead.
I survived an hour without my horse racing off without me, faring better than my fellow skiers.
Encouraged, I'm more determined to tackle the Swiss Wall.
I watch Alex descend again with instructor Laurence and promised myself I would too.
Further peeks over the edge at the slope's mounds, known as moguls, do little for my confidence.
But by the final day, I'm ready to throw myself off, come what may.
I bottle it, of course. Much to my triumphant brother's delight.
Instead I swap the piste for a pint and a long après-ski in one of Portes du Soleil's 99 restaurants.
Soon I can see the upside – failure is the perfect excuse to return for another attempt next year.
Travel Tips:
A Portes du Soleil lift pass is 235 euros for six days.
Private lessons at Avoriaz Alpine Ski School start at 80 euros plus 10 euros per extra person. Group, children and back country ski clinics available.
You can have equipment delivered to your chalet – visit doorstepskis.com or call them on 0033 674 937 896.
To book a winter stay with us, please e-mail info@chillypowder.com or call 020 7289 6958.