Wonderful weddings at Chilly Powder
30/07/2018 | Chilly Powder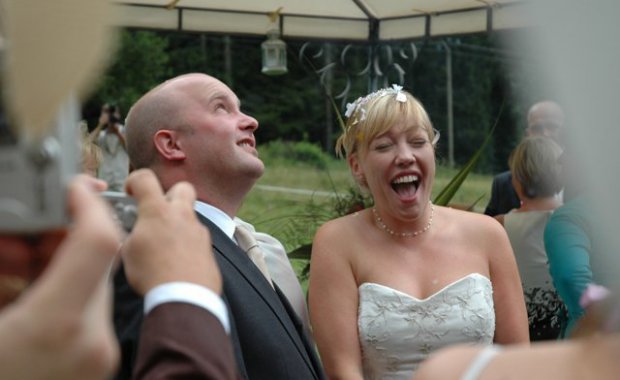 We've been fortunate enough to host some amazing weddings at Chilly Powder over the years. Here's a brief look back at some of the couples who chose to spend their special day with us…
Sofia and Guido Pijper were living and working in Morzine when they met and got engaged. Sofia, who was working at Chilly Powder, recalls, "We had just finished work and were tired but happy, back in our room. Suddenly Guido stopped chatting and looked and me and said "Will you marry me?" – I was completely taken aback. My first reaction was to laugh, and ask him if he was serious, but he repeated the question and naturally I said "yes!".
The couple returned to Morzine for the ceremony and tied the knot at Chilly Powder in July 2009.
Sofia from Australia and Guido from Holland, says, "Guido's father wrote a beautiful speech in Dutch, Portuguese and English. He read the Dutch version, my father read the Portuguese version and Guido's Uncle read the English one. It was so lovely about our families coming together, despite the distance between our countries and the language barriers."
Georgina and Andy Hubble opted for a winter wedding in 2011, with a snow-covered ceremony in our grounds. Georgina recounts, "We had a hog roast at our reception in a room decorated with church candles, feathers and dark brown table runners. Our first dance was "All My Life" by KC and Jojo. We had a DJ and didn't stop dancing until 2am!"
On getting married in winter, Georgina says, "Everyone got on so well, and a few people tried skiing when I never thought they would. It was just a really good week and we returned the following January to celebrate our first wedding anniversary."
Most recently Catherine and Philippe Doudard tied the knot in a sunny ceremony this summer. Catherine says, "a big thank you and congrats to the whole team of the Chilly Powder who made our marriage magical, wonderful, extraordinary for the bride and for all guests. Professionalism, kindness, magical place... everything was so perfect! Thank you all."
Our very own, Paul and Francesca Eyre re-affirmed their vows to each other at a ceremony in 2016, in a special day celebrating with friends and family from around the world!
To find our more about weddings at Chilly Powder contact us at info@chillypowder.com