Living France Magazine feature story
17/11/2019 | Chilly Powder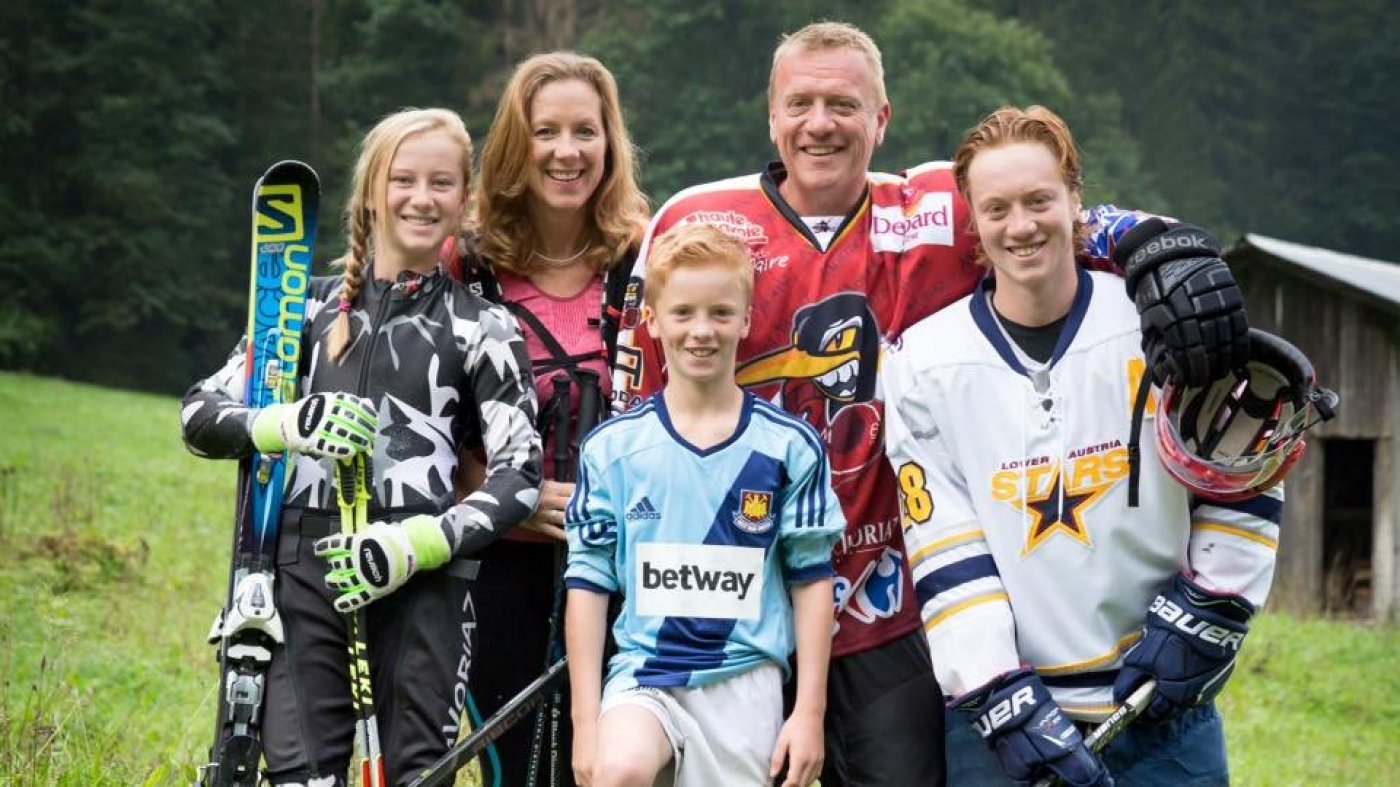 In case you missed it, read the full feature interview with Francesca from Chilly Powder, as published in the November issue of Living France Magazine, below:
High Hopes
As Francesca and Paul Eyre reach their own milestone of 25 years in Morzine, the couple reflect on a quarter of a century spent in the French Alps and share some of the many highlights with Karen Tait.
In 25 years I've never been bored." How many of us can say that? But that's what Paul Eyre commented to his wife Francesca just a couple of days before I visited them at their lovely chalet hotel, Au Coin du Feu, in the ski resort of Morzine.
Like Living France, the couple are celebrating their own anniversary – a quarter of a century living and working in the Alps. Yet when Francesca arrived in the small mountain town she had no intention of moving there full-time. Enjoying a working break from her catering business in London, she met and fell in love with Paul, who was spending a winter season in the ski town.
Within a year they'd decided to combine their talents – she as a chef, he as a quantity surveyor – to run a catered chalet. At first they rented a chalet and spent a few years growing the Chilly Powder business, before taking the plunge and building their own chalet right by the ski lift to Avoriaz. Paul designed the building and visited every day – being a quantity surveyor came in handy, especially when he totted up every last brick and tile and discovered they'd been overcharged £40,000!
THE GREAT OUTDOORS
Running a chalet business in the Alps has enabled Francesca to pursue her love of the outdoors, and to give her children the freedom to roam. "I couldn't live without being outdoors now, I could never live in the city," she says. "The seasons are so dramatically different here. In winter it's white and cold; in spring all the flowers come up, it's stunning; in summer you have the heat… and there are all the different sports, from skiing in winter to running in summer. It's very varied."
While Francesca was active as a child, living in the mountains has really allowed her to embrace sport, including ski touring and cycling. Being so busy with the chalet though has meant she doesn't get out on the slopes as much as she'd like. "Paul doesn't even have a ski pass anymore," she says wistfully.
Luckily, the mountains have come to mean much more to them than just skiing. In particular, it's been a great place to bring up their three children, Ben, now 21, Eloise, 16 and Jamie, 14, who are completely bilingual. They have all excelled in sports, which Francesca doesn't think would have been possible if they'd lived in a city. Eloise has won medals as a downhill slalom skier, and both the boys play ice hockey.
"The thing we love most about living here is the quality of life for our children, the freedom they've had," says Francesca. "It's very safe. If they had any problems, on the mountain they know most of the pisteurs, in Morzine they could go into a shop and borrow a phone to get through to me, or catch a lift with someone if I forgot to pick them up! It's been fantastic."
Francesca attributes the children's sporting prowess in part to the great facilities in Morzine, but also found in most French towns and villages. All three children did extra-curricular sporting activities on Wednesday afternoons too. "There's not a lot to do here if you're not into sport," she says, adding, "the only thing missing here is culture, you have to go to Geneva or Lyon for theatre and so on, although there are lots of local music festivals and Morzine has a good music school too."
HOME ON THE RANGE
Although the town has grown over the past 25 years, it's still a very traditional place to live, with family-run businesses and a refreshing lack of big corporate hotels.
"There's now a quarter of an aisle of international foods in the supermarket, but that's only been within the last four years. It's still very French. The two chemists are the real hub of the town – the people who run them know all about you and your children, and you have the same doctor for years. The relationship we have with the people here is fantastic."
As Alpine tourism has grown, inevitably the town has grown with it and more people have moved in, including Brits. "The town is more worldly now. Back when we were first here, our friends' parents holidayed in Avoriaz [the next village]. Now everyone is travelling, and bringing new ideas. All nationalities are setting up businesses." Although she's still British, Francesca tells me she feels French now. Having left the UK at 16, she's spent more time away than she has in the UK.
"I'll never be fully French, because of the sense of humour and family history, but France is home. I like the way the French are. People don't care what you drive or what work you do, they give you more credit for being able to climb a mountain. There's none of the keeping up with the Joneses." This has a knock-on effect with their children too, who don't hanker after the latest iPhones or fashions. Interestingly, the children feel different levels of 'Frenchness'.
"Ben is very French, he and Jamie were singing along to traditional Savoyard songs at Christmas, very patriotic. Eloise joins in and knows all the words but she's always supported England in football and other sports, while the boys support France."
FRIENDS IN HIGH PLACES
Although Francesca spoke fluent French when she arrived in France (her mother grew up in France and Francesca went on French exchanges and lived in Paris when she was 17), Paul only had very basic French. "Now he speaks better technical French than me," she says.
Being able to communicate in French is one of Francesca's key pieces of advice to anyone thinking of moving to France. When they first moved to Morzine there wasn't a British community so they socialised with their French neighbours and became part of the community. "But there's a very good French language school in Morzine so there's no excuse not to learn," she adds.
The only thing Francesca misses about the UK is the British sense of humour, but she gets her fix from her guests. In fact, mixing with the guests is one of her greatest joys. Even now, she joins them at the communal dining table several nights a week, and Paul is often found in the bar chatting to guests. Even the kids have helped entertain younger guests over the years. "Being with the guests, learning from them, hearing about what they've done that day, that's the great part of the job," says Francesca.
Some 70% of their guests are repeat business and many have become friends. In fact, two of the children's godparents were guests, as were their new business partners. "Friends for life," says Francesca, "and that has been incredibly special."
"You have to love people to do this though," she adds. "Lots of people say to us, 'you live in the Alps so you must be wealthy', but not at all – we don't do this for the money. We started with nothing, we're paying off a mortgage… Everyone thinks it's easy, like being on holiday. Many guests have set up their own ski chalets, but few have carried on with them. It's really hard work."
BUSINESS PLAN
If you fancy following in Francesca and Paul's footsteps, she recommends doing a ski season first before investing in a property. "You won't make much money, so really do your sums and get proper financial advice," she says. "You have to do it legally, and use local; yes, it may be more expensive, and it can be frustrating, but in the long term, it means if you need a plumber, they'll come straight away."
The cosy atmosphere in the evenings certainly sets the scene for socialising; Au Coin du Feu means 'around the fireside' and the main living/dining area of the hotel has been built around an impressive central fireplace. It's very cosy and welcoming. "We didn't want it to be a hotel, we wanted it to be a family home," Francesca says. "We want people to really relax here."
As keen skiers as well as parents, Francesca and Paul knew what families wanted from a skiing holiday and have tried to provide an environment where there's everything you need for the kids (even a cinema room and crèche) while the adults-only policy at the dinner table means parents can have a break and other guests aren't bothered by children.
There's also a hot tub and massage rooms, as well as afternoon tea and superb evening meals. As the first upmarket chalet in Morzine, the focus was always very much on the quality of the food and wine – not surprising given Francesca's background as a chef.
While the business has expanded (they own two more chalets), they don't have any plans to grow it further. Nor will they stay in the Alps forever, much as they love it there. "We'll always keep a base here, a lock-up-and-leave apartment probably, but not at this altitude," says Francesca.
"Dealing with all the snow is hard when you're older, and the winters are cold." For now though, they're very happy where they are. www.chillypowder.com
MORZINE IN SUMMER
There's no shortage of waterbased activities to enjoy when the warmer weather sets in, from white water rafting and kayaking to wakeboarding and stand-up paddleboarding. if you're keen to practise your golf swing, Morzine is surrounded by several golf courses, although you might struggle to keep your eye on the ball and not be distracted by the spectacular mountain views. With swimming, tennis, paragliding and cycling also on offer, you'll be spoilt for choice when it comes to staying active.
MORZINE IN WINTER
Morzine is part of les Portes du Soleil, a vast ski area spread across 13 different resorts in France and Switzerland. the varied pistes offer runs for all levels of skiing ability, from beginner to experienced thrillseeker, and are served by more than 200 ski lifts. there are plenty of challenges for snowboarders too. All that hard work on the slopes calls for lots of hearty fare to fuel your efforts, and the many pisteside restaurants are more than happy to oblige with generous servings of tartiflette.