France Magazine press review
10/03/2020 | Chilly Powder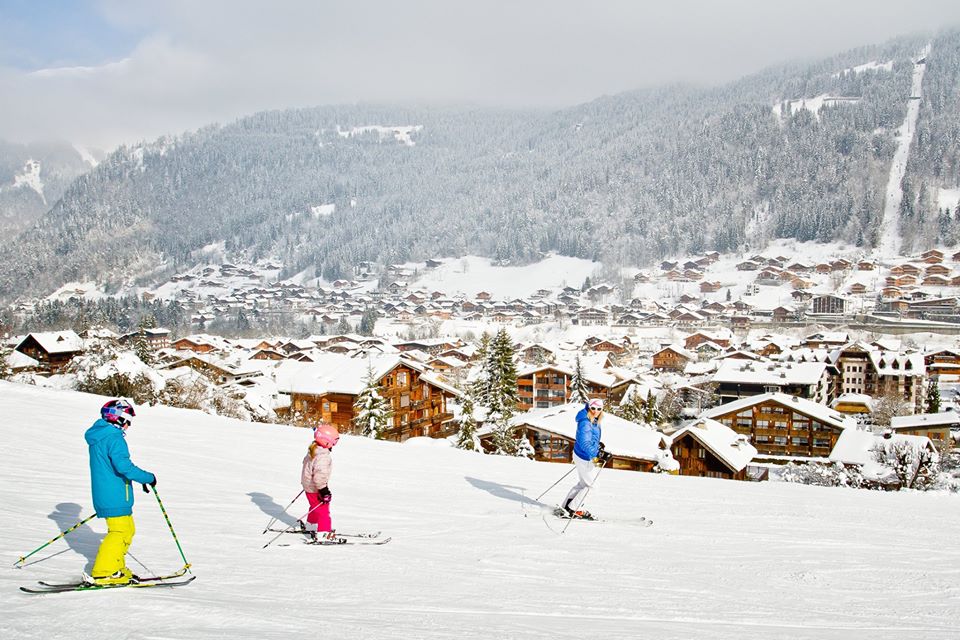 From ski lessons to sledging to snowshoeing, Karen Tait discovers there's plenty on offer for novice skiers in Morzine and Avoriaz – as the Editor of France Magazine paid a visit to stay with us last winter. Here's what she had to say, with the full piece published in the January 2020 issue of France Magazine…
Glittering in the lights from the chalet, pure white snowflakes danced through the air, melting as they met the steam from the hot tub. I slipped a little deeper into the warm water and bubbles, took a sip of champagne (more bubbles) and gazed in awe at the mountains above me, silhouetted against the navy night sky. This was the high life. Literally, as I was at 1,200m altitude in Morzine. I know the town well from summer trips, hiking mountain biking, and road-tripping along the wonderfully winding roads. I love the mountains at all times of the year but I'm not an experienced skier so I'm less familiar with the Alps cloaked in snow. I've always wondered what it's like to whizz down a mountain strapped to a couple of skis, however, so decided it was time to find out.
Ups and downs
The next morning, having been kitted up with skis and boots by a local supplier who came to the chalet, I met my ski instructor at the top of the Morzine-Avoriaz cable car lift for my lesson. Just walking in ski boots was a huge challenge and I felt like Bambi on ice, only a lot less cute. I knew the first challenge would be successfully tackling the chairlift, but luckily Pierre helped me on and off. The relief was short-lived though as I then found myself in front of a button lift. Who knew there were so many different types of mechanical contraptions designed to pull you up the slopes (and I had yet to experience the 'magic carpet' lift)!
There was something rather hypnotic about being slowly hauled up the slope on the button lift – the next thing I knew I was on the floor. Whoops! Falling over was the name of the game for the next few hours as my poor long-suffering instructor attempted to teach me the art of snow-ploughing, then gliding slowly from one side of the nursery slope to the other. With infinite patience he picked me up when I fell and, surely exasperated by my lack of skill, occasionally led me by his ski pole, which I hung on to for dear life as he slid effortlessly backwards down the gentle incline. The snow was falling quite heavily and visibility was poor, but I didn't need to see very far ahead!
By lunchtime I was glad to have a break, making my way to the centre of Avoriaz to meet my husband for lunch; he'd been way up in the mountains above me snowboarding all morning and was keen to hear how I'd got on. At this point I have to say I was still far from being a ski fan. It seemed too much hard work, not at all the graceful swooshing through powdery snow that I'd imagined! My opinion would change over the next few days, but as we tucked into our tartiflette and pression, I was wondering if I could suggest I needed to investigate the other attractions of the area the next day instead of skiing…
Chalet charm
Spending the rest of the day at the chalet was as relaxing as continually falling over on the slopes was not. Au Coin du Feu is close to the Prodains cable car linking Morzine and Avoriaz, offering a ski-to-the-door and on-piste location (a blue, red or black piste runs straight into the chalet's back garden).
Despite my hearty lunch, I still found room to indulge in afternoon tea, available every day. Au Coin du Feu means 'by the fireplace', so appropriately a huge four-sided fireplace takes pride of place at the heart of the main living area. Cosy settees to one side are the ideal place to settle with a cuppa, slice of cake and a book. On the other side, a long table makes a convivial spot for breakfast but it's the evenings when it really comes into its own, for the sociable dinners.
While families are very much welcome – there are family suites, a crèche, ski school, kids' club and a cinema room – evenings are child free (children's dinners are served earlier). Francesca and Paul Eyre, who have been running luxury catered and self-catering chalet holidays here since 1996, have created that unlikely mix of a relaxing atmosphere for both families and guests without children.
Although there are 16 ensuite rooms, it feels more like a smaller catered chalet than a hotel. Each themed room is charmingly decorated, with a balcony or patio (perfect for summer visits), and as well as the main living area there's a child-free mezzanine library with leather armchairs and a pool table, and also a bar with a large TV, popular for sporting fixtures, plus there's a sauna and massage yurt too.
When the couple started the business, theirs was the first luxury chalet in Morzine. For Francesca, a Cordon Bleu-trained chef, offering top-notch dining was of the utmost importance. Although she now has chefs and kitchen staff, she still joins her guests for dinner several times a week and it's fascinating hearing her stories of life in the mountains. The chalet's appeal will vary depending on your needs and preferences – the ski-to-the-door location, the kids facilities, the comfortable rooms, the ease of organisation with everything from transfers to ski hire arranged – but for me, it was the wonderful evening meals, all accompanied by specially selected wines. Before dinner we relaxed by the fire with a G&T and chatted to some of the other guests. Geordie barman Richie's parents were visiting; although non-skiers, they love being in the mountains and enjoyed plenty of day trips as well as just relaxing at the chalet. I was interested to hear what they'd been up to at the end of each day as I was keen to investigate the other 'entertainment' options on offer. After all, why should the Alps belong only to skiers in winter!
Winter holidays are increasingly being taken by groups of family and friends, with mixed ski skill – such as me and my husband. A real town rather than a purpose-built ski resort, Morzine has plenty to keep everyone happy, with a great choice of shops, restaurants and bars, as well as activities like horse-driven sleigh rides and ice skating, and year-round events, while Aquariaz in Avoriaz is an impressive swimming complex with pools and an indoor river.
There's certainly no need to spend all your time on skis, although for those who do wish to, the Portes du Soleil is one of the largest ski areas in the world, with 650km of pistes and over 200 lifts. The varied landscape is ideal for all levels of skiers and snowboarders, and there's off-piste in and above the treeline. It's just as busy in summer, with mountain biking, hiking and climbing all popular pursuits here.
Blue sky thinking
The next morning dawned bright and blue. The freshly fallen snow was too inviting to resist and as his self had offered to forego his high-altitude adrenalin rush to accompany me on a blue beginner's slope, it seemed rude to refuse.
I don't know how but somehow my instructor's tutelage all came together as I launched myself down the slope. A lovely wide piste enabled me to turn in wide arcs and before I knew it, I was at the bottom. A grin as wide as the slope was plastered to my face and I was keen to go again. I even managed a green piste by the end of the day, although there were a few epic tumbles along the way (somersaults and skis flying off).
The fresh powdery snow was kind to me though and lived to ski another day. In fact, the next time out on the slopes, this time with another couple of relatively novice skiers from the chalet, I skied if not gracefully, without falling at all!
As mentioned though, my trip wasn't all about skiing and I was keen explore other winter sports. First up was night-sledging. In a group of around 40, we caught the Plèny lift up the mountain, where we were each given a head torch and a plastic toboggan that looked a lot like a Ninja Mutant Turtle's shell. The controls were basic – metal levers each side that you pulled to slow you down and/or steer. We were all instructed to try them out on the first small slope. It was utter carnage! I don't think anyone made it to the bottom without falling out.
We then headed off down the mountain. There were various stages, at the start of which our guides gave us instructions for the next stretch – comments like don't go too far to the left as there's a ravine there were met with nervous giggles. I started to get the hang of it though and balanced the fear of going over an edge with the exhilaration of flying down the pistes in the dark with the cool night air on my face.
When we finally reached the bottom, thankfully all still in one piece and with no one left behind dangling over a dizzying drop, the adrenalin hung thick in the air. I'd have happily had another go, but Morzine's other nightmare attractions were calling.
The Au Coin du Feu chalet staff have one evening off each week, when guests can explore the many dining and nightlife options in the town; there's everything from cheap and cheerful to fine dining, and laidback bars to lively nightclubs. We headed off with some of the other chalet guests to the Tibetan bar, waiting for our nerves to chill out before finding a lovely restaurant.
Peace and quiet
The next day's activities couldn't have been more different, going from high octane to mindful contemplation. Snowshoeing was the activity plat du jour, in a group of mainly French tourists with a guide who, as well as being a mountain specialist, was a birdwatcher. Along the way we listened to bird calls before spotting them on the wing, and were shown animal tracks in the snow and the various mountain vegetation and landmarks.
We wound our way across wide open mountainsides, the virgin snow sparkling like diamonds in the sun, and through tranquil forests where you could hear a pine needle drop. About halfway through, at a particularly lovely spot overlooking the valley, our guide stopped to give us a treat – a coffee and a hot tot of eau de vie!
Snowshoeing involves wearing a lightweight metal and plastic 'shoe' over your usual boots – not the old-fashioned tennis racket style you'll see gracing Alpine restaurant walls. Although they felt strange at first, they were easy to walk in and we also used poles to ease the going. As long as the pace is measured, as it was on our walk, it's not difficult at all, although with the beautiful sunshine and my many layers of clothing I did break out into a sweat! I can thoroughly recommend it as a wonderful way to experience the mountains in winter.
If you're reading this as a skier, you'll already know the highs only the mountains can provide. If you're a non-skier, I hope I've inspired you to give it a go – if all else fails, you can always retreat to the hot tub!