Winter Paralympian swaps skis for the steering wheel in Mont Blanc Rally
10/09/2020 | Chilly Powder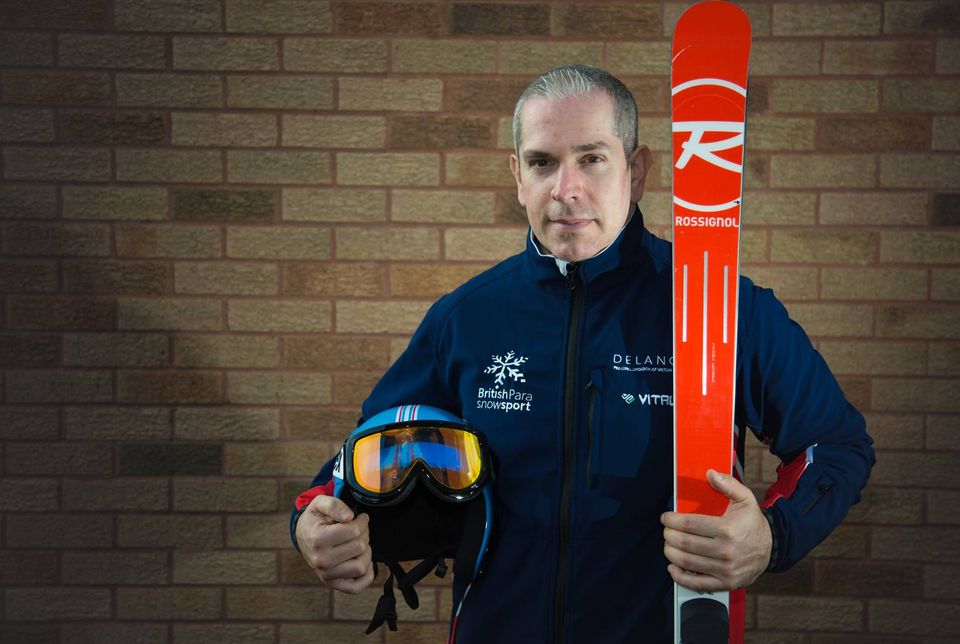 Winter Paralympic ski racer and rally car driver Chris Lloyd recently paid a visit to Chilly Powder with his team, as he took on Rallye Mont-Blanc Morzine for the first time.
No stranger to the steering wheel, Chris was involved in a rally car accident in September 2011; where he broke his back, damaged his neck and crushed his spinal cord, leaving him paralysed from the neck down.
He was left hospitalised and became completely reliant on the hospital staff and his family for the most basic needs; at which point he was told he would never race a rally car or ski again - two of his biggest passions. ​
Determined that his body had the capability to heal, he told himself that one day he would be skiing in the Winter Paralympic Games. ​
By teaching himself meditation, self-hypnosis and positive visualisation, Chris reinvented himself - as he became relentless in pushing his body to recover and he began to independently walk short distances.
12 months after the accident, Chris put on a pair skis in an indoor ski dome in Tamworth; as the words of the consultant echoed in his ear about never skiing again. ​
​In October 2012 he attended a ski session with the charity Disability Snowsport UK; and after a detailed review of his skiing, Chris was told it would take four to five years to develop the skills required to become a ski racer.
With the World Championships in February 2015 a target, Chris knew he had to push himself even harder to be ready. Since that day, he has remained relentless in training, skiing and racing at every opportunity.
He entered his first international race in December 2012 which was so poor he didn't even finish; but raced again a few weeks later, showing improvement. It seemed like an impossible dream as he only had 24 months to achieve a World Class standard and his body was a shadow of its former self.
He was entering races at every opportunity he could get across to Europe, and finally his resilience paid off as in August 2013, he was invited to become a member of the development squad with the British Disabled Ski Team. ​
Chris was also invited to Sochi with the UK Paralympics, and was continuously pushing himself to improve his performance and be picked for the squad...with goal to secure a place in the team to compete at the Winter Paralympic Games in PyeongChang in 2018. ​
In January 2018, he received a call to say he had been selected to compete for his country in South Korea and in March that year, Chris raced on the World's biggest stage in the Men's Downhill and Super G events, finishing 20th and 25th respectively.
Just being at the games was a dream come true, where Chris says, "I hope my journey will help to inspire others to achieve their own dreams. No matter how hard things may seem, if you have a goal and work hard to achieve it - you can accomplish anything you set your mind to."
Despite such a serious accident, Chris has been far from put off rally car racing and has continued to compete in rally events throughout the UK and Europe over the past few years.
With a passion for the mountains, Rallye Mont-Blanc Morzine was the perfect race for Chris - where he and his navigator Patrick Walsh finished in first place after the first day of racing in the 2020 event - driving their Ford Escort MK2.
Frustratingly, they encountered mechanical issues on the second day and were forced to withdraw from the race - but we were delighted to host Chris and his team during the event, where he kindly added the Chilly Powder logo to the team car.
An incredible story and an inspirational journey. We'd like to wish Chris all the best for his skiing and rallying events and sure we'll see him again in the not too distant future.
You can watch Chris's story in a video here and also check out the Rally in the video below - with Chris and Patrick leading the charge on day one at the 5:45 minute mark.