Discovering golf in the Alps – an insider's guide to the fairways of France
04/01/2021 | Chilly Powder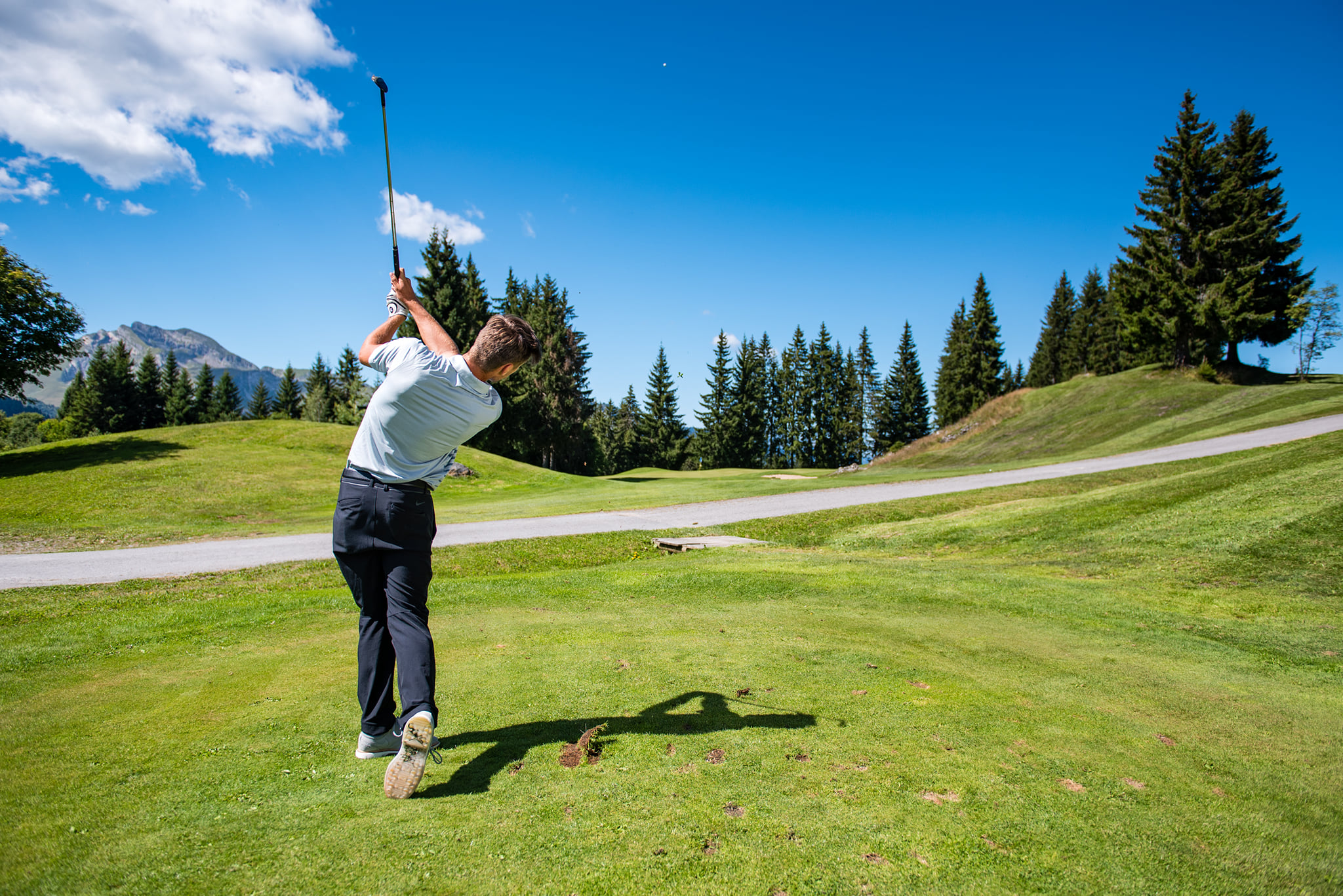 Always happy to talk about Golf, our very own Paul Eyre, recently sat down with Golf South Magazine to talk about his favourite fairways in France - as part of a special feature for their winter issue.
Click here to see the print article or scroll down to read the full interview below.
Discovering golf in the Alps – an insider's guide to the fairways of France.
Keen golfer Paul Eyre, 54 from Welling, Bexley first moved to Morzine in the French Alps in the early 90's - the first stop on an around the world trip – and hasn't left since.
Meeting his wife Francesca in the charming Haute-Savoie resort, the couple started their own chalet business, Chilly Powder, in 1996 – which is now one of the most established chalet operators in the region – welcoming guests from the UK and all corners of the globe, year round – including many golf enthusiasts.
We caught up with Paul, who plays off a handicap of 18, to learn more about what Morzine and the surrounding area has to offer golfers, with some top tips and insider knowledge about playing in the region …
Golf in the Alps is somewhat of a well-kept secret and Morzine is surrounded by some wonderful golf courses - at valley level and at altitude.
Of course, one of the best things about playing golf in the mountains is … the mountains. Every course in the region is surrounded by stunning backdrops and sensational scenery, that make every round special … no matter how well (or badly) you're playing.
Golf courses in the mountains tend to have a short season (due to the fact that some of them are ski slopes during the winter!) so the best times to play are from June to September.
As a fun fact: Thanks to many of the courses doubling up as ski slopes, local rules mean that if your ball hits a cable or a chair lift, you can take the shot again without penalty!
The beauty of where we live is that so many great courses can be easily accessed by a car journey of an hour or less, with a quick rundown of my favourite courses to play below.
Avoriaz
Our chalet, Chilly Powder, is based in the hamlet of Les Prodains, right next to the cable car taking passengers up to Avoriaz 1800 – which boasts a nine-hole course looking out across the valley.
The Golf Course is great for beginners and intermediate golfers looking to progress their game or for experts to use as a warmup course, to help you get back into your swing.
Because of the altitude in Avoriaz, the air is thinner, so according to the experts, the ball travels 10% further too!
Les Gets
Les Gets is our other local course, which can be kind to straight hitters but unforgiving to the wayward. It is spread along the top of the Pleney Mountain with some spectacular views.
When playing with guests they often ask for guidance on the best line to take on each hole. Standing on the 7th tee it's always fun to point out that the perfect line is the tip of Mont Blanc.
Royal Evian
This course, with fantastic views overlooking Lake Geneva, is one of the finest courses in the Alps. Lightning fast greens and challenging rough will test any level of golfer. The clubhouse serves excellent lunches in very relaxing and informal surroundings for a club of this stature.
Chamonix
A spectacular course along the valley floor with views up to Mont Blanc. The river Arve runs through the middle of the course making many of the tee and approach shots a challenge and many of the greens have streams surrounding them.
Annecy
Lake Annecy Golf Club Launched in 1953 and is one of my favourite places to play. The course is immaculate with the greens offering breath-taking views of Menthon-Saint-Bernard and over the stunning Lake Annecy.
Annecy is known for its old town, with cobbled streets, winding canals and pastel-colored houses so it's a great place to visit generally and the perfect location for a group containing golfers and non-golfers to play and explore.
Esery
A lovely open course between Morzine and Geneva with views along the Arve Valley and a fantastic Chateau Clubhouse.
Crans-sur-Sierre
A little further out is Crans-sur-Sierre, which is around two hours away and is considered one of the European Tour's most iconic annual venues. Each year the Omega European Masters stops at Crans and attracts one of the calendar's strongest fields.
All the courses are challenging and well maintained, and you can't go wrong with any – which is why we recommend trying them all! However, if I had to choose, my two top picks would be Evian which each summer hosts The Evian Championship (one of the ladies majors), and Les Gets which is a fantastic course to have just on our doorstep.
Other nearby courses include: Megeve, Maison Blanche, Giez, Aix les Bains, Divonne and Bossey – which are all worth checking out. In summary, we are really spoilt for choice.
There are also some nice golf courses close to Geneva airport so it's even possible to catch an early flight from the UK and play the same day, or to play a round before returning home.
Off the course, there is also a wealth of amazing activities with everything you can think of from adventure sports like downhill mountain biking and white water rafting to more relaxing activities like pony trekking and spa days – so there's endless activities for non-golfers take advantage of the area and fantastic weather too.
In addition to Morzine, we also operate a B&B in Provence, offering guests the opportunity to combine a stay in both destinations. The landscape in Provence is very different but equally beautiful – with golfers spoilt for choice with courses including Golf International de Pont Royal, Golf du Luberon, Golf de Saumane, Golf de Sainte-Baume, Golf de Barbentane, Golf Chateau L'Arc, Golf club de Miramas and more.
I have no qualms in saying that these courses will give you some of the best and most unique golf experiences of your life. For golfers who love to play unusual courses they should think about mountain golf. Just make sure to bring a camera or have plenty of space on your phone for the pictures.
For more information contact info@chillypowder.com or call 020 7289 6958.