Top five reasons to visit Morzine this summer
09/05/2022 | Chilly Powder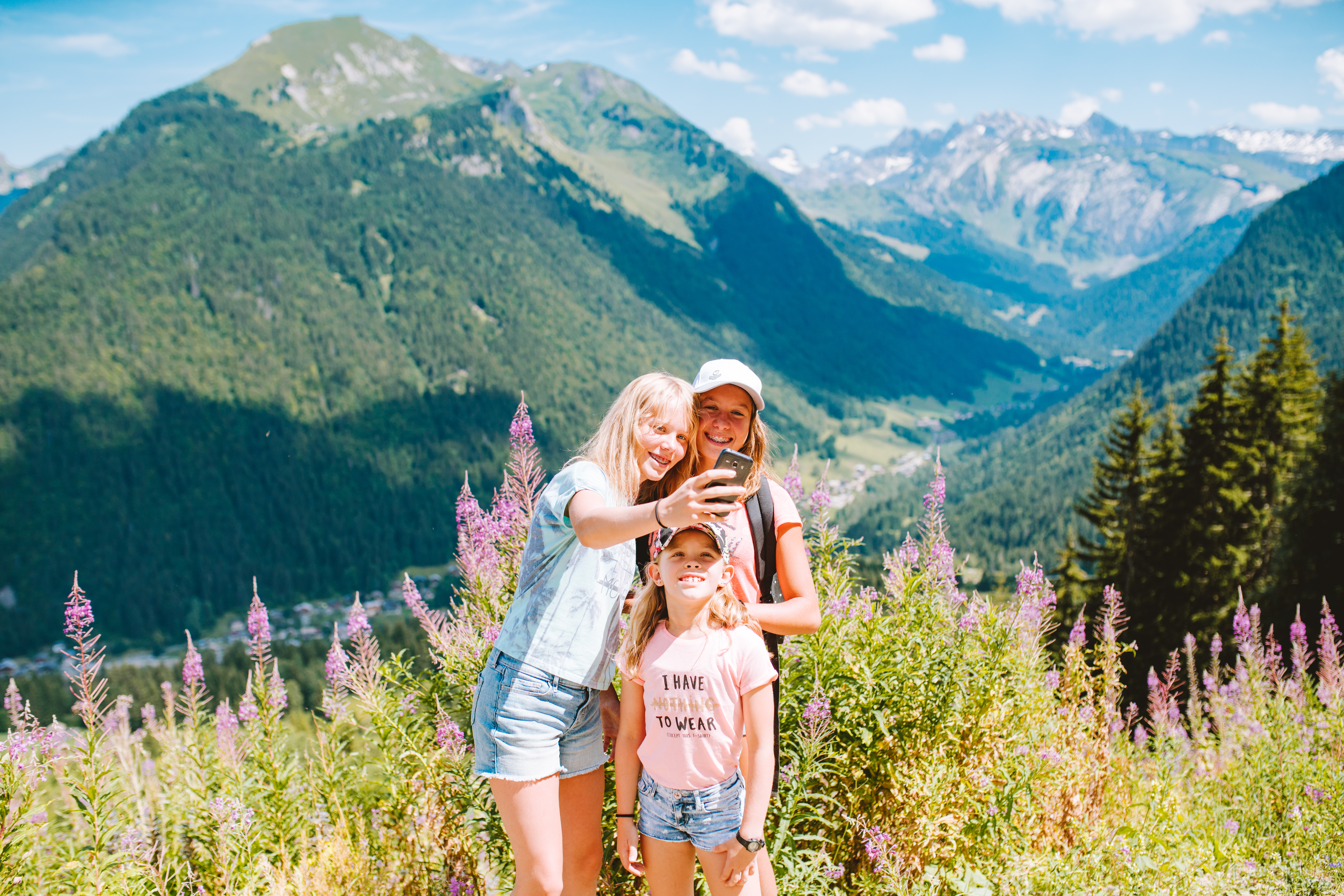 The locals in Morzine have a saying … 'we come for the winter and stay for the summer'. Whilst most of you are familiar with the snow-covered mountains and winter adventures on the slopes, it's when the snow melts that Les Portes du Soleil truly comes to life…
Whilst there are thousands of reasons to pay a visit to Morzine Avoriaz this summer, we've picked our top five below to give you a taste of what you can expect in our local mountains this summer season.
1. A hiking playground
The brilliant thing about hiking in a ski area in the summertime is that you have the option to start your hike from the hotel or take a chairlift.
As guests of Chilly Powder, you can take advantage of the amazing Multi-Pass scheme, where for just €2.50 per day, you can gain access to the chair lifts and gondolas all summer long, and reach high vantage trails with ease.
For those looking to really stretch their legs, hiking the Roc D'Enfer is a popular and challenging route – with the highest summit standing at 2,243m and jaw dropping views from the ridge line. The mountain can be viewed from all around and sits above Saint Jean d'Aulps, with multiple different access routes.
Another, slightly more relaxed and recommended hike is the fox trail - which starts in the centre of Morzine and goes along the Dranse River on the old route to the Nyon Pastures. This route leads to the beautiful Nyon Waterfall and takes in lots of local nature.
For walking routes and recommendations contact us at info@chillypowder.com
2. Multi-Pass magic
Not only does the Multi-Pass scheme provide you with lift access in the summer months but you can also enjoy unrestricted activities for all the family all within the same €2.50 per day (or free for under 5's), with access to more than 50 activities in the 12 resorts of the Portes du Soleil.
Activities including local swimming pool access (including the Aqua Park in Morzine) tennis courts, cultural sites, ice rinks, mini trains, crazy golf, buses in between the resorts and the summer toboggan run are all part of the Multi-Pass.
It's a terrific, affordable way to experience everything the region has to offer in the summertime.
If you'd like to book a Multi-Pass for your summer trip, just ask our team at the front desk who will be happy to help.
3. White water rafting
Summer wouldn't be summer without finding time to take a dip … and in Morzine, we like to cool down by taking to the local waters with our friends at Frogs Rafting who offer a variety of adventures along The Dranse and The Giffre Rivers.
From traditional rafting with a crew of up to eight people and a guide taking on a variety of rapid descents; to hydrospeeding where everyone has their own float and follows the guide, for a super wet and wild river experience; or Airboating and Canorafting excursions allowing you to navigate the rapids in your own boat – we highly recommend taking a trip with Frogs to add a little extra excitement to your summer holiday.
4. Visit the goat village
Many of you will be familiar with the small village of Lindarets in the winter, which is where the Ardent gondola is based – where in the summer, the village is full of goats! A beautiful village to explore, made all the more fun by trying to capture a goat selfie!
5. An event packed summer
There's literally something for everyone in Morzine during the summer months, which is reflected within the local events schedule.
Whether you're a keen athlete looking to push your limits in the Spartan Race or would prefer to be a spectator watching the world's most famous cycling race, we've selected our top events to keep you entertained this summer, with more details below:
June 24th - 26th
Pass'Portes du Soleil MTB
An unmissable event for mountain bikers, the France-Swiss mountain bike ride consists of three days of events, with riders able to choose between participating on the Friday, Saturday or Sunday – in an event between 1000m and 2450m altitude, using 16 ski lifts in the area (out of the 24 open all summer). With a variation of routes based on ability and experience.
July 2nd & 3rd
Spartan Race and Morzine-Avoriaz Trifecta weekend
Chose between 5k, 21k and 50k races – with kids events and more. The Trifecta weekend of adventure races sees participants cross high-altitude lakes, climb lofty slopes, jump into natural waterfalls, traverse high pastures and swim in white water rivers. Take part in one event or all of them and claim your Spartan finishers medal – with a lively festival area to keep friends, family and Spartans thoroughly entertained throughout the weekend.
Full details and registration here.
July 11th & 12th
Tour de France 2022
Simply the biggest and best event in world cycling. We're thrilled the race will pass through Morzine once again this year – where we are also delighted to be hosting one of the teams. Morzine is also the start of the 10th stage of this year's event as riders head out on a 148 km stretch from our home town to Megève.
August 27th
Triathlon Morzine-Montriond
Quite possibly one of the most beautiful triathlon routes in the world, The Morzine-Montriond Triathlon takes place around the stunning alpine lake of Montriond, with closed roads for cycling and a spectacular trail run. With Olympic, Sprint, Super Sprint and Fun Run distances all available – making it a great event for all abilities.
September 9th-10th
74th Mont-Blanc Rally
One for motorsports fans … the Mont-Blanc Morzine Rally passes through Morzine with special stages around the resort, with drivers racing along the Joux Verte pass. You'll also get a chance to see vintage and historic cars as they travel along our winding mountain roads – attracting race car fans from across France and around the world.
Learn more about the Rally here.
Have you experienced the magic of Morzine when the snow melts? Contact us at info@chillypowder.com or call 020 7289 6958 to for summer reservation enquiries.