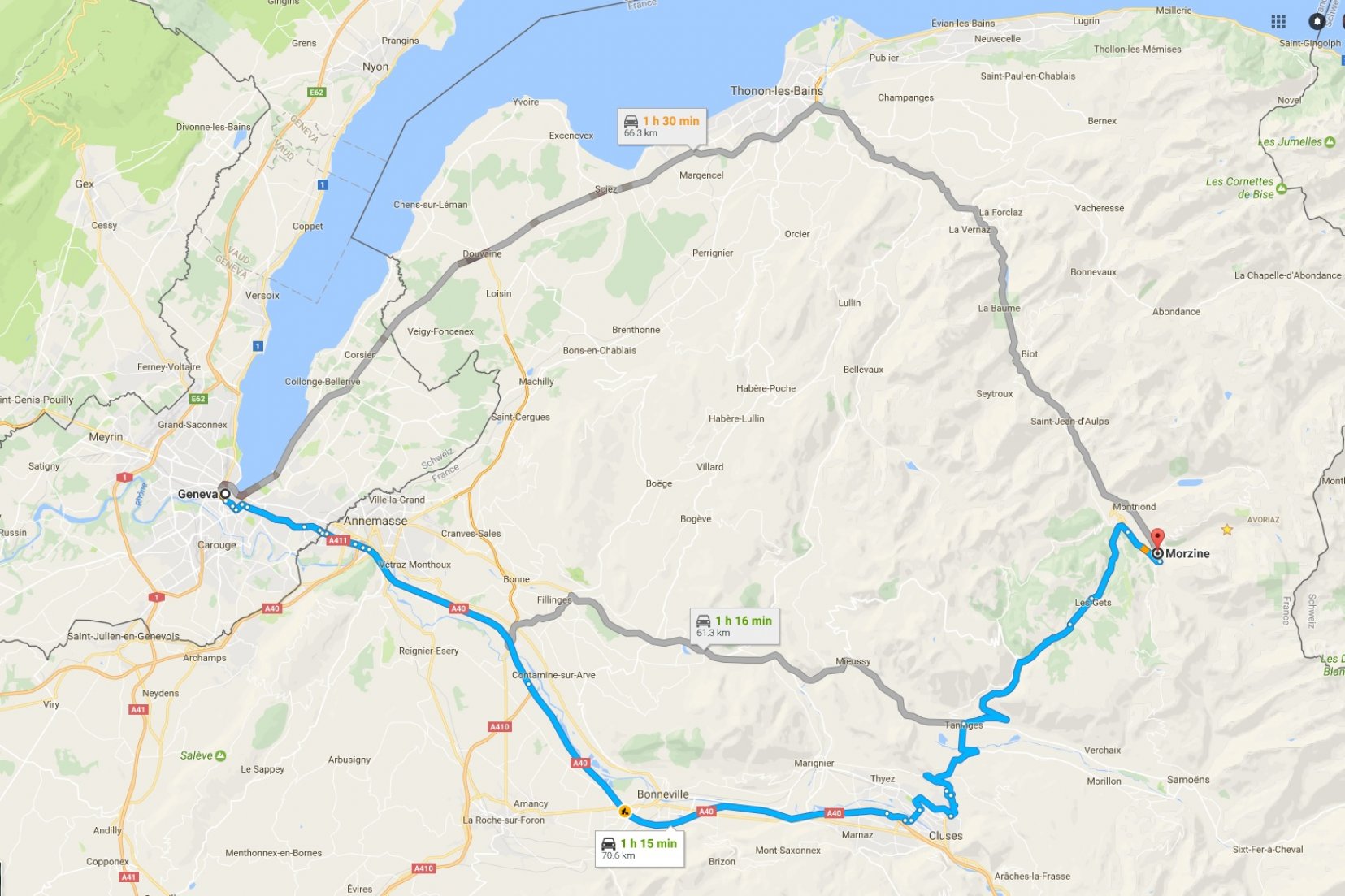 If you're driving from the airport...
You'll probably use a sat nav to find your way to Morzine. However, it's worth using our directions as soon as you reach the resort to navigate yourself to Chilly Powder. Often sat nav's take you to Avoriaz, the resort 400 meters above Chilly Powder!
Directions to Chilly Powder from Geneva
The Google map suggests going through the centre of Geneva, but we would recommend following our directions on the best way to reach the A40 out of Geneva. Turn out of airport following green motorway sign for France. Go through 3 or 4 traffic lights until you reach a T-junction with traffic lights. Turn left and then right after about 100m following the sign for France. You should now be on the Swiss motorway E25. Stay on for approx. 5 miles and go through border control. When you have passed through the border, stay in the middle lane following signs for Chamonix. Stay on the motorway for about 30 miles passing Annemasse and Bonneville. Turn off at Cluses following signs for Morzine/Les Gets all through the town of Cluses. You will start to climb out of the town towards Taninges on the D902. Go through Taninges and Les gets staying on the D902 until you reach Morzine. It should take 1/2 hour from Cluses to Morzine.
When approaching Morzine you will come to a roundabout with the Hotel Savoie on your left. Go straight over. Stay on main road into the town centre. When approaching the centre the main road bears to the left. Take the turning to the right, which actually goes straight on, following signs for Avoriaz. After 500m go straight on at a roundabout. At the next roundabout turn right still following signs for Avoriaz. Stay on main road around a couple of sharp bends. At the next roundabout go straight on which is the first exit following signs for Telepherique and Les Prodains. Follow the road right to the end of the valley and the chalet is on the right just before the old cable car station. We ask you to arrive between 3.00pm and 7.00pm if possible. If you intend to arrive earlier or later then please do let us know.
Office number: 0033 450 74 75 21