Five minutes with filmmaker and photographer George Treble
10/01/2022 | Chilly Powder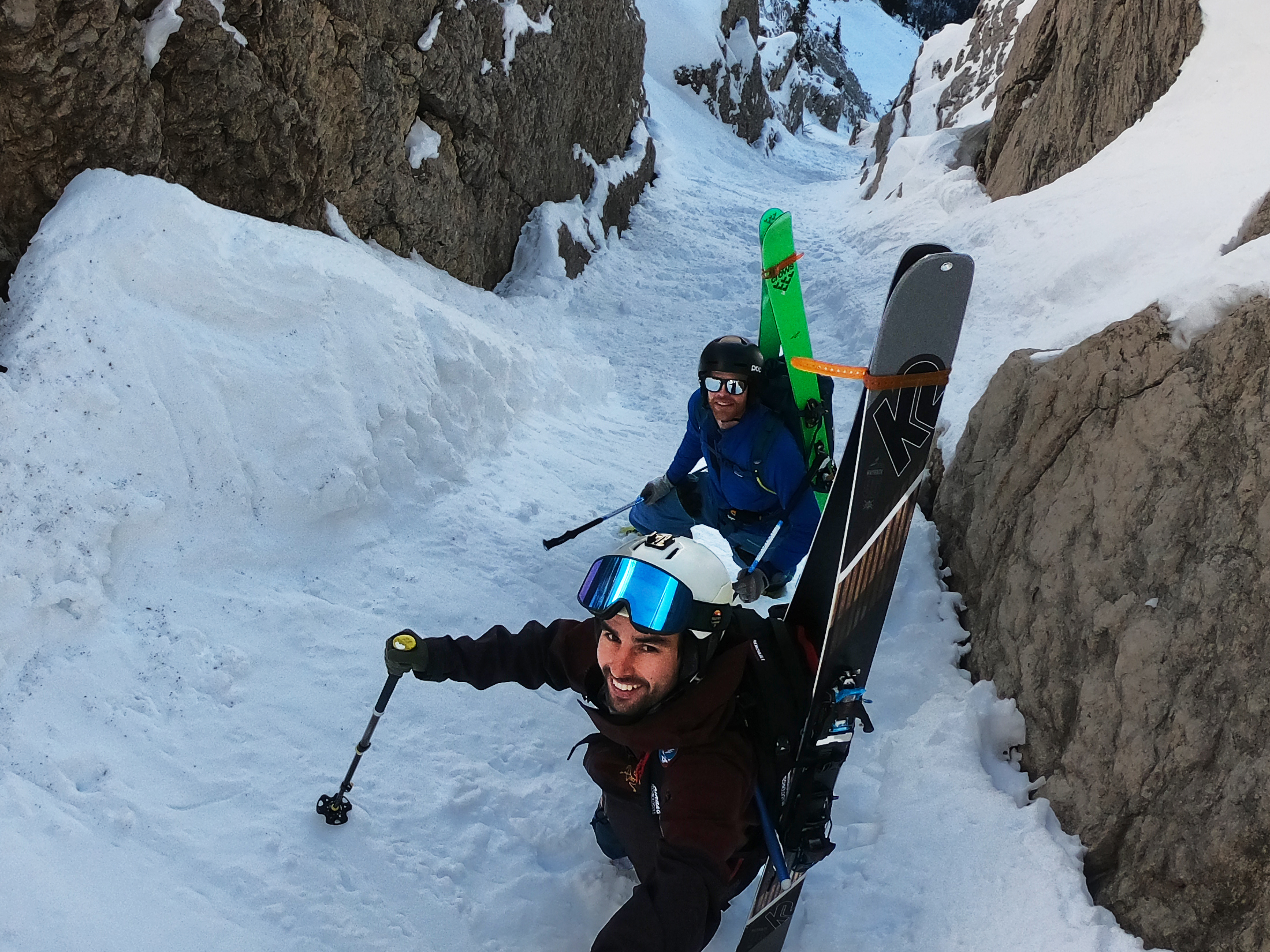 George Treble is a Morzine based filmmaker, photographer, ski instructor and backcountry guide. Some of you may recognise George's work from the framed photos displayed in Au Coin du Feu. Having recently released a new ski film made during lockdown, 'La Saison Blanche', we took took some time to catch up with George to find out more about the project and his wider creative work in Les Portes du Soleil ...
How did you first get your start in photography and filmmaking?
Whilst working in the ski industry, I started working in marketing roles in photogenic locations (the Alps, NZ, Japan, Norway, Canada). I self-taught and built the skills on the job. I've always been blown away by the scenery in places like this and developed a love for photography as a way to capture and share it.
You recently released a short film 'La Saison Blanche' filmed last winter. Can you tell us more about this project and how it came about?
When the pandemic led to the closure of French ski resorts last winter, my colleague Mark Mckellar and I set about a project to hike, ski and film some of the most beautiful lines in the Chablais Alps. The community around Morzine was pretty bummed out about the situation so we wanted to show people that if they're prepared to hike, a whole lot of fun was still available. So we released episodes of each individual adventure throughout the season and by the end of the winter, we had a huge amount of awesome shots and a pretty interesting story to tell. I ended up producing a 25-minute ski documentary about the project which tried to explain and highlight the silver linings which came out of a pretty crazy chapter. Having the time and conditions to hike and ski the lines we had dreamed about was awesome and even more fun than imagined. It's now available to view online here.
Where are your favourite photo locations in Les Portes du Soleil and what makes these spots so special?
The tops of the mountains are my favourite. Golden hours from the loftiest points possible. The most beautiful I've witnessed must be the summit of the Dents du Midi (Haute Cime) in August a few years back. We camped halfway up and got to the summit just as the sun rose, then sat there open mouthed for two hours straight. The drone footage is actually in the Saison Blanche film, in which we also returned to ski from the same summit in February. Every time I get to hike or ski up Dents du Midi, all my dreams seem to be set there for the following few months.
What are your top three tips for taking a great action shot on the mountain?
Try to combine the action with the view in the same frame. Find an awesome landscape shot and place the action in the foreground. For action shots, work out where the action will take place (e.g. a skier doing a slash turn) and pre-focus the camera on that spot. Then send the action past and shoot in burst mode, in RAW and you'll have some cool results.
What are your top three tips for taking a great landscape shot?
Photography is a hobby which motivates us to be in the most beautiful places at the most beautiful times. Focus on finding them and then the taking the photo part is easy. More than half the skillset is the forecasting, mapping, skiing, and mountain safety.
What advice would you recommend for hobbyist photographers and filmmakers looking to capture great holiday snaps or produce short films on their holidays to Morzine?
Look at the world through your real eyes. Take fewer photos, but try to take ones which tell whole stories. One amazing photo is so much better than 100 average ones. Think about and visualise the photo in your head before you take the camera out.
Which photographers and filmmakers do you recommend we should follow on Instagram for inspiration?
Ben Tibbets Chamonix based mountain guide and photography is always mind blowing. Mickey Fitz is going from strength to strength with his video work and I'm really excited to see what he comes up with. Jordan Manoukian is doing incredible things all the time. Mathis Dumas also.
What projects are you currently working on?
I've chosen things I'm passionate about and set a ruthless schedule of short-term goals. At Avoriaz Alpine Ski School we're doing a lot of mountain safety, off piste, touring and avalanche awareness classes and building curriculums for bigger courses – there's a high demand for it. For anyone in Portes du Soleil this winter check them out here.
I'm also building an online course business offering snowsport education – there'll be multiple modules for various ability levels. Currently I'm working on a module offering pre-snow education for skills involved in backcountry skiing and snowboarding. Basically condensing a lot of what I've learned in the past 10 years in snowsports into engaging, chronological, concise and well thought out and well produced education packages. Watch out for a soft launch this spring and a full launch in Autumn 2022. For anyone who is interested in hearing more, join the mailing list here.
We're also working on a K2 Ski touring & splitboarding film, also due out in the Autumn 2022 film festivals.
I'll put updates on all of my projects on my @treble_edit insta and FB pages. Always keen to read feedback in the comments. Cheers!