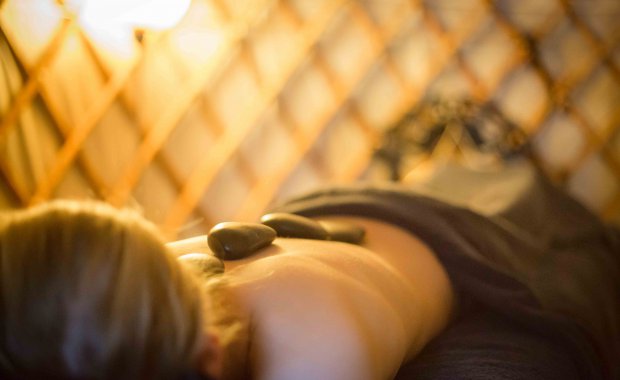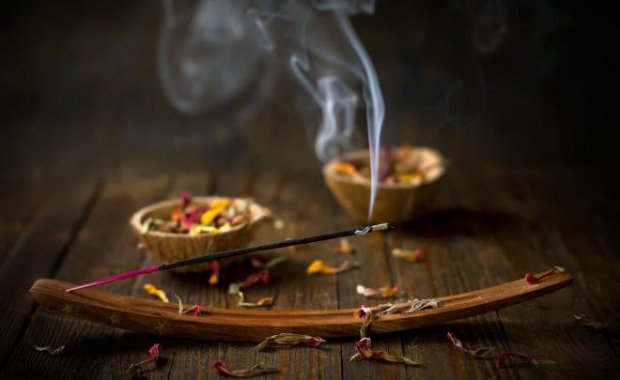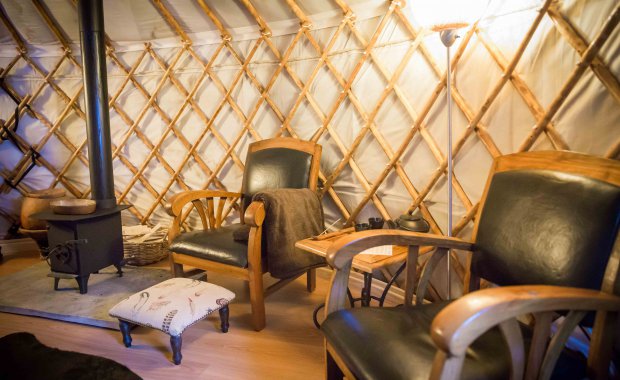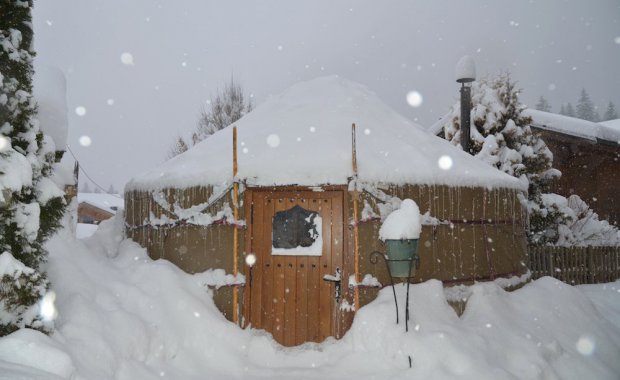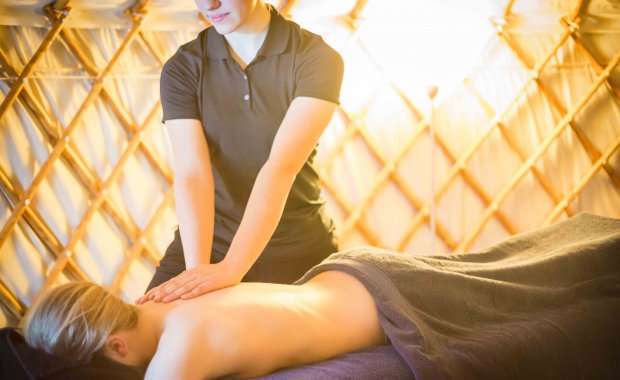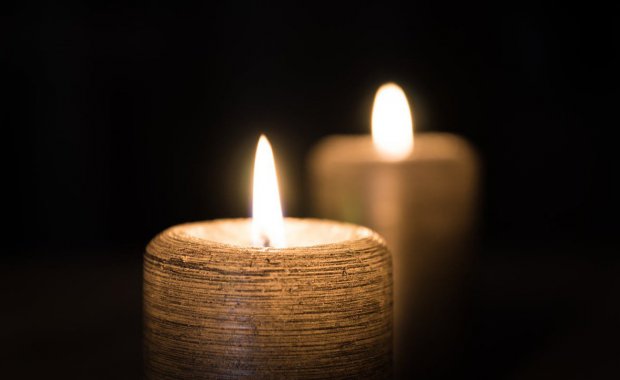 We all love skiing because of the sun, great scenery and fresh powder. However, we push our bodies to make the most of the slopes which results in fatigued and achy muscles. Massage has many benefits, particularly preventing injury and reducing muscle pain and stiffness. It is the perfect way to recover from a tiring day on the slopes, putting your body in top form to allow you to make the most of your holiday. So whether you want relaxation and pampering or something therapeutic to treat those muscle aches and pains, there'll be something perfectly tailored to suit you.
Our therapist Eider is originally from Spain in the Basque region. She offers a wide range of therapies and specialises in Shiatsu Massage and Traditional Chinese anatomy and massage. Eider speaks Spanish, English and French, and is also qualified as a Macrobiotic nutrition consultant. She regularly practices yoga, and has done a photography and tourism degree.
Treatments take place in the yurt, located in the garden of Chalet Au Coin du Feu.
Eider is available between 8.00am and 10.00am and between 4.00pm and 8.00pm each day for treatment bookings. She can also be available outside of these times by prior arrangement. As we have just one therapist and one treatment room, we encourage our guests to pre-book their massages and treatments early to avoid disappointment. You can book in directly with Eider or via the online booking system below.
Payment for treatments can be made in cash directly to Eider at the time of your treatment, via online secure payment or added to your resort bill. Eider's list of treatments is below.
Shiatsu or Japanese Massage
50 mins - €60
With roots in traditional Chinese medicine, the goal of shiatsu is to stimulate acupressure points on the body to improve the flow of energy and help regain balance. It is normally done on a mat on the floor or on a low massage table and is often used to reduce stress and protect against stress-related health issues. It's also believed to be effective for treating conditions like arthritis, insomnia, back and neck pain, sciatica, and even sinus problems. Shiatsu may help increase energy, promote recovery from injuries, and stimulate the digestive system. Shiatsu massage works the whole body, but your therapist may focus on areas of your body that need extra attention. During the massage, your therapist will use their hands, palms, and thumbs to massage certain points of your body.
Promotes emotional and physical calm and relaxation
Helps to relieve stress, anxiety, and depression
May relieve headache
Reduces muscle tension
Pulsing or rhythmic pressure is used
You can be fully clothed during this massage
No oils are used
Traditional Thai massage
50 mins - €60
Thai massage aligns the energies of the body. The massage therapist uses rhythmic compression along the body's energy lines to reduce stress and improve flexibility and range of motion. This type of massage can reduce muscle spasticity and back pain, and has been shown to be useful in treating balance problems and migraine symptoms. Thai massage works the entire body using a sequence of movements that are similar to yogic stretching. Your therapist will use their palms and fingers to apply firm pressure to your body. You'll also be stretched and twisted into various positions. You can wear loose, comfortable clothing during the massage that is usually done on a mat on the floor.
This massage is done fully clothed.
No oils are used
Can help improve: flexibility, circulation, energy levels
Thai Oil Aromatic Massage
50 mins - €65
It combines curative techniques used in traditional Thai massage and aromatherapy using oil massaged into the skin. Extracted from flowers and other plant parts, essential oils offer a pleasing scent and are believed to have healing properties. Your body will reach deep relaxation. The soothing effects of aromatherapy massage can benefit a variety of conditions, including headaches, insomnia, certain digestive disorders, back pain, and even premenstrual symptoms.
Indian Head Massage
25 mins - €45
Indian head massage is a relaxing holistic treatment that uses acupressure massage on the head, face, neck and shoulders. It aims to rebalance your body's energies. It may relieve aches, pains and tension in your neck, back and shoulders, improve the texture of your hair and encourage it to grow. An Indian head massage stimulates the flow of blood, lymph and oxygen in your upper body, and therefore may clear your sinuses, relieve stress and help you sleep better. It is said to help cure headaches (even migraine), eye strain and anxiety and was originally used to improve scalp and hair condition.
Oils can be incorporated into an Indian Head Massage to soften the skin and deeply condition the hair.
The treatment is carried out with the client fully clothed and seated in an ordinary chair.
Reflexology
50 mins - €50
Reflexology is an ancient holistic healing by activating specific reflex points on the feet. Your entire body is represented on the soles of your feet. The therapist will work on individual and precise reflex points with some gentle massage techniques often used to help the treatment flow as well as to help feel deeply relaxed. Reflexology can encourage the balance and health of individual organs and systems of the body by working the corresponding reflex points, this allows a reflexology treatment to be tailored to your specific health requirements.
The treatment includes a pre relaxing Indian head massage
The client is fully clothed
Sports Massage
50 mins - €60
Have the mountains exhausted your body?

This is a form of massage involving the manipulation of soft tissue to benefit a person engaged in regular physical activity using massage oils onto the skin. It is a vigorous massage that is intense but will release your muscles to help you get back on the slopes again. It is hugely beneficial if you can have a sauna or hot tub prior to the massage.
Aromatherapy massage with oils
50 mins - €65
The oil is applied in long sweeping strokes which warm the skin and muscles and prepare the body for deep tissue massage. Extracted from flowers and other plant parts, essential oils are added to the massage oil. They offer a pleasing scent and are believed to have healing properties: lavender and rose, for instance, are known to promote relaxation. Although oils may be selected to address specific needs, the therapist typically uses pre-blended oils to relax, energize, or uplift.
Lavender is very effective for pain relief, insomnia, and stress.
Frankincense is often used for grounding, to deepen breathing, soothe coughs and just for relaxing. It has anti-inflammatory and antidepressant properties.
Geranium for menstrual issues and a great tonic for the skin. It promotes better circulation, can improve the nervous system, and even revitalise the body tissues.
Sandalwood is said to be helpful with coughs, anxiety, depression, or stomach/digestive complaints.
Eucalyptus eases chest and sinus congestion.
Peppermint is a treat for tired feet, cooling for athletes or hot flashes, and stimulating for the mind. it is helpful for breathing and focusing.
Grapefruit and Lemon are invigorating, immune boosting and fresh. Both are said to boost circulation, help fight colds, banish oily skin, and combat feelings of depression or fatigue.
Hot Stone Massage
50 mins - €65
A full body massage using hot stones to unlock tension. Using the stones as an extension of the hands gives a deeper and more intense massage as the heat penetrates the body and relaxes the muscles. The stones are also placed along the energy centres of the body
This massage will use natural oils